"There was nothing from EAB that didn't turn out well" 
The Finnish food group Paulig, with brands such as Santa Maria and Risenta, moved to its warehouse in Kungsbacka in 2017. EAB had already supplied warehouse fittings and Radioshuttle® for their previous warehouse, and we are proud and pleased that they has continued to trust us over several stages of the process to streamline its warehouse space.
Paulig is a family-owned food company looking to create a new food culture that is sustainable for both humankind and the planet. Paulig offers flavours in all forms: coffee and other drinks, Tex Mex and spices, snacks and plant-based options. The company's brands are Paulig, Santa Maria, Risenta, Liven and Poco Loco.
Radioshuttle® lifts taco sauce and spices to new heights
During the spring, we supplied five different types of racking for the two main Euro pallet sizes, 1000 x 1200 mm and 800 x 1200 mm. Numerous Radioshuttle® installations lift raw materials, spice jars and taco sauce in their daily work; six of these are new additions from the latest stage.
— We had Radioshuttle® before at our previous warehouse, and it's a really good system. It's high quality and easy to handle. There are several different employees who manage the robots on a daily basis, and everything works perfectly. We've always had a good relationship and communications with EAB. We believe it's important to have straightforward dialogue that allows us to discuss issues and come up with different solutions, and we feel we always get that. We've been working with EAB for many years now, and everything from them has done what it's supposed to," says Peter Eriksson, Facility Manager in Kungsbacka.
COMPRESSED WAREHOUSE
During some periods, the Paulig warehouse gets very full, and to meet the increasing demand for more storage space, they decided to invest in more shuttles in this stage. Thanks to this decision, it has been possible to compress their warehouse and fit in more pallets — in the same surface area.
— I've done several projects together with Paulig and we have come up with lots of great solutions for the layout together. They are a customer who knows what they need and what final result they are looking for, and with high ceilings it's a case of both challenging and fun projects," says Jörgen Svensson, Area Sales & Project Manager in the Storage Equipment business unit at EAB.
/* PAGINATION */ ?>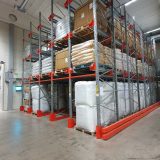 Share
Posted in